School Council
You can get involved with the School Council - and really help make a difference!
To find out more, please contact us.
You can contact the School Council on 01723 374244.
Friarage School Council was set up in October 2003. It consists of two pupils from each KS2 class, who are elected by their peers for a half-term. The school council is able to discuss issues raised by other pupils, as well as helping to make decisions on how Friarage School is developed. The School Council aim is:
"To make Friarage School a better place for all."
Friarage School Council's recent actions...
Our next School Council is 23 October at 2.15pm
- this is to be rearranged due to our Ofsted inspection.
July 2018
We have created another Funky Friday menu, asking teams to vote for between two options.
June 2018
We are taking part in flag raising for Armed Forces Week at the town hall. Emily and Kazi will be presenting the flag to be raised.
Alex, Joshua and Bethany represented our school and presented their research project at the School Council conference held at the Town Hall.
We have designed our first Funky Friday menu.
May 2018
We have elected a new School Council body. Thank you to everyone who stood for election. A photo of your team's representative is on display in the hall.
March 2018
We were a part of the interview process for our new Maths leader. We look forward to welcoming Mr Thomas after Easter.
17.01.18
First meeting of the new year! Lots to discuss!
We discussed some feedback from the hall monitors and discussed some timings for the playground monitors.
Feedback from classes.
Main item to be discussed was the up and coming interviews for a new Maths coordinator and teacher. School council will be involved with the interviews. We discussed the qualities that we feel are important in a teacher at Friarage.
Current School Council Projects
New Playground design. 4 children's entries were chosen by our PE coach and KS2 School Council. A display has been created in school and current design ideas are being processed by Mr Rawlinson and Mrs Cappleman. Watch this space for exciting new updates!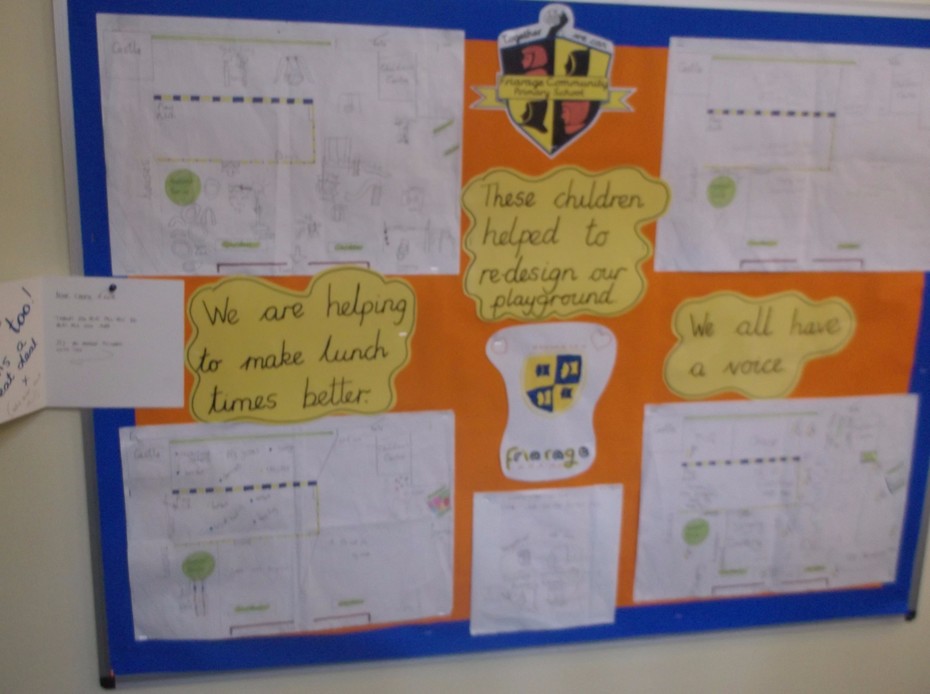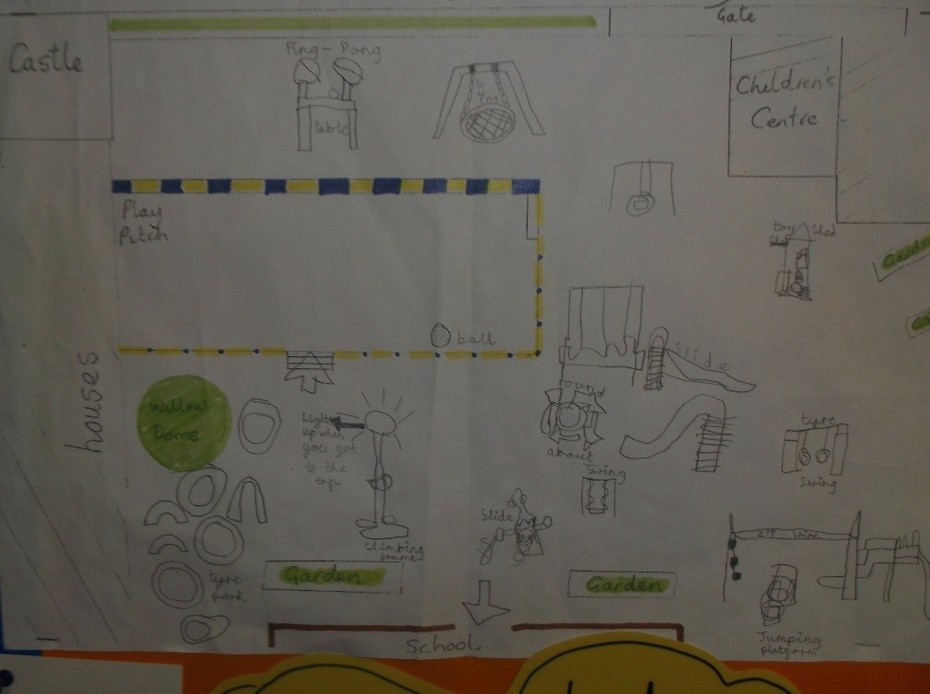 11.10.17
(minutes taken by our secretary Seun)
Harvest Festival – roles were allocated to support Harvest Festival – meet and greet parents, speakers, powerpoint,

Poster committee worked on posters

Meeting booked for next week for Liason officers to meet with Mrs Cappleman and Mrs Blamires.
4.10.17
(minutes taken by our secretary Seun)
Discussed roles in school council

Talked about how we feel attendance is going – so far most of us think it is getting better because of the rewards.

Thought about other problems that need to be raised – we talked about how many children are in the dining room – there are queues for dinner

The innovation officers talked about how to upgrade the library and improve children's interest in reading. We were thinking about buying more books.

Harvest Festival – the poster committee will make posters to try and encourage people to bring food to our Harvest Festival
20.9.17
Meeting held with Miss Hollings and Mrs Conner
Introduction to Mrs Conner who will be chairing meetings from now on.
Register taken and a summary of jobs.
Most children happy in current position – some changes to replace Year 6s who have now moved on to Secondary School.
We felt that a new job may be created for a liason officer with respect ambassadors and playleaders. To be discussed with Mrs Jemison and Mr Rawlinson.
Current School Council will run till October half term when there will be a new election.
Agenda:
Review of New In class Attendance Procedures. What do children like/dislike about them? Do children understand the importance of good attendance? Can they think of any other ways to improve attendance and encourage children to come to school every day?
On the whole children felt that the new attendance class charts and rewards were having a positive impact.
Tom felt that it was going well and that children in his class wanted to come to school every day because they knew that if they did there would be a treat at the end of the year.

Evie felt as though it was definitely encouraging children to come to school every day.

Maks said that in his class one child was on holiday and the class felt let down by this –especially when there are 6 weeks in the summer to go on holiday.

Tom said that he was quite aware of his class's attendance percentage for the week. He knew that it was slightly below the school's target of 96%. He said that children generally knew their class's attendance figures.

Poppy felt that the new attendance procedures were better because we were being harder on people so that they are thinking about attendance more.
Any other ways to improve attendance:
Marcus liked the rewards for good attendance and felt that these would be effective. Perhaps even more rewards would work?

Evie felt that if we had more play equipment for the playground at lunchtimes and breaktimes children would want to come to school more and be less likely to 'fake' an illness.
Seun reported back that is was sometimes hard to manage games on the playground as a playleader. He felt that we would benefit from more playleaders being on duty. Liason officers to refer to Mr Rawlinson.
Poppy was concerned that the respect ambassador area be cordoned off more clearly as children are running through it when playing at break and lunchtimes. Liason officers to consult Mrs Cappleman and Mrs Blamires so that they can mention in Monday assembly.
Harvest Festival – Miss Hollings expressed an interest in the support of the School Council in the running of the Harvest Festival this year – this will be discussed in the next meeting.
16.5.17
All children present – KS1 and 2. Held with Miss Hollings
Minutes are as follows:
Register taken by officers – electronic register introduced by Miss Hollings.

Welcome to new Ks1 members and introductions made all around.

Discussed roles within school council – all children still happy.

New school playground project discussed and winners announced: Hermione, Julia, Madison and ?

General equipment ideas: Jenga, twister, mini-climbing frame, large snakes and ladders, monkey bars, swings and large connect 4.

Confirmation of Summer Fayre at Friarage – 14th July 2017. Miss Hollings talked about needing to strat to contact local businesses for support/aid with prizes for the raffle. Children's ideas:
Argos, Toyland, Symths toy store, Tesco, Body Shop, Pound shop, Amelia's chocolates, Flamingo Land, Joke shop, Homebird, Wilkinsons, Marks and Spencers, TK Maxx, Matalan, Dalby forest, Aldi/Lindl and Playdale Farm.
Miss Hollings to look through proposed list with innovation team and start to gather contact information.
12.5.17
All children present (only KS2). Held with Mr Rawlinson – PE coach.
Minutes are as follows:
Looked at the entry applications for new school playground.

Discussed the possibilities of new games for the project with various teachers and adults around school – positive feedback given.

Equipment ideas.

Chose 4 entries as winners – want to display somewhere around the school to celebrate excellent ideas/work.
9.5.17
All children present (only KS2). Tom/Maks – PE. Held with Miss Hollings
Minutes are as follows:
Discussed summer Fayre ideas. All children wanted a summer Fayre to run this year and appointed liaison officers will speak to Mrs Stevens and co-head teachers about possibilities.

Introduction of new playground project – information to follow from Mrs Blamires and PE coach.

Allocation of new School Council Job Roles. Miss Hollings discussed jobs and their descriptions. Children were then offered the roles and chose appropriately:
Observation officers – Nathan and Megan
Administration officers – Alan and Evie
Secretaries – Julia and Caitlyn
Registration officers – Rosie and Hermione
Innovation officers – Melisa, Tom and Julia
Poster/advertisement officers – Seun, Bobby and Harley
Liaison officers – Demi-Blu, Poppy and Maks.
30.3.17
School Council Election Day
Productive day. Elections held upstairs in Friarage. All candidates created a manifesto and presented to their teams before elections. All children from Years3-6 voted for 2 children in their team. Results below:
Y3 – Tom, Maks, Harley and Poppy.
Y4 – Alana, Evie, Megan and Bobby.
Y5 – Rosie, Caitlyn, Seun and Melisa.
Y6 – Julia d, Hermione, Nathan and Demi-Blu.
Children and teachers from Ks1 also had their own vote in class. This year is the first year we are having Year 1 children in School Council. Results below:
Y1 – Faith, Nate, Molly and Bobby.
Y2 – Vinnie, Casey, Marcus and Ava.
Massive CONGRATUALATIONS!
16.6.16
 Absences – Kai/Nicol (school trip), Ethan (banned for 1 week due to disrespectful behaviour throughout week towards adults).
 Discussion began based around new behaviour policy within school – What do we like about it? How well is it working? What impact is it having on children/behaviour in general? What do you think? Is there anything you have heard other children say about it? Positive/negative? Is there anything that you think could be changed? Improved and why?
 All children completed a sheet where they were required to write 2 things they liked/are working  and 1 thing which they believe could be changed/improved.
 Here are the summarising points from their discussion and decisions:
What we like
 I like that is working in class.
 It helps/makes children behave.
 People can improve their behaviour to get back to green
 It's good to be green!
 It makes pupils WANT to behave
 Bad behaviour is turning into good behaviour.
 I like that in our class as soon as someone puts their hand up; people follow. It's also working outside – everybody listens.
 Everyone prefers this method as it's an easier way to improve behaviour.
 It makes people want to get to gold and be rewarded.
 I like the solution circle.
 Children get on with their work
 The fish bowl is solving people's problems.
 Hands up has had a good impact; it's more organised.
What could be improved/problems we have come across:
 If a student doesn't like a teacher, they will try to get onto red.
 Time people as to how long it takes to put their hands up.
 I think that some children get onto red on purpose!
 Some people like to be on red perhaps?
 Some children don't listen and want to go on red.
 As soon as someone goes onto red (and gets sent out) we give them so many chances – but they still keep making bad choices.
 Some people still run out of the classroom and walk and talk when hands are up on the playground.
 People move next to their friends and don't put hands up outside.
 At the end of playtime so people still don't put their hands up and run to their lines.
Children expressed positivity at the new chart and said they understood most of the terms on it.
Lucas suggested that mini-mentors/school council should be allowed to move on the playground when hands are up in order to help/remind other children to do the right thing.
Other issues discussed:
 Summer Fayre – no SF this year. RB/CC/VH/HS suggested a Big Christmas Fayre instead – welcome parents into school/crafts/games etc.
 Governors to become more involved in fund-raising aspects of the school – more adult help from the community?
12.4.16
1. Register taken by registration officers.
2. VH handed out new metal badges – explained importance of wearing them in school and trying not to lose them.
3. Guide Dog day events confirmed by school council. 3 posters chosen by administration officers. Copied in colour and placed around the school by poster committee members.
4. Guide Dog day - Friday 20.4.16. Chn informed about their assembly. Members all wrote a short sentence to introduce, discuss and end the assembly. Assembly aided by HS as VH on Grammar course all day.
5. Chn offered to help sell water bottles and glow in the dark badges at the end of the day to raise extra money towards to sponsorship – really liked this idea!
6. Assembly rehearsal for Friday.
15.3.16
1. Register taken.
2. 14.3.16 – feedback on previous days Mosque visit. General feeling was excellent. Really enjoyed the visit, sampled new cuisine, learnt about new faith and values behind the religion. Muslim chn commented that they felt 'happy' to be able to talk to other chn in the SC/school about their faith.
3. Continued to complete Guide Dog day posters/leaflets – all chn involved with this activity.
4. Short meeting as previous day was taken up by Mosque visit.
No meeting on last week before Easter holiday – VH out on course
Easter holiday – 2 weeks
29.2.16
1. Kai welcomed back onto School Council and warned to control behaviour in and out of class.
2. Mrs Lewis visited SC meeting to inform chn that they could begin asking their classes about potential school meal changes. We talked about the fact that the changes needed to still be healthy, able to be made with fresh ingredients (no frozen items) and should be able to be made in bulk! Chn to ask their classes for new ideas for main and desserts and give suggestions directly to Mrs Lewis by Tuesday 1.3.16.
3. Liaison officers fed back outcomes of meeting with SLT re: Guide Dog Day ideas for fund-raising.
 No dress up as 'doggies' however, a casual day on the Friday would be acceptable.
 Decided on wearing 'yellow' to match official GD colours.
 No baking day to arrange – can do at Summer Fayre.
4. R.E – VH proposed 'Christian Aid Week' activities in school WC: 16.5.16 – accepted by school council. Activities TBC.
5. Mosque visit confirmed for 14.3.16. All school council to be involved in trip to Muslim Centre in Scarborough to experience what it is like for a young Muslim to live in our town.
6. Chn voted on whether or not to let KS1 attend the visit – vote ruled in favour of KS1 attendance. Numbers to be verified by VH closer to time. Letter to be written or parents in next week.
7. Guide Dog day date confirmed – Friday 20.4.16.
8. Continued with Guide Dog Day advertising – Lucas led others with poster he had made at home. Great inspiration!
22.2.16
1. Register by officers.
2. Kai/Megan – ban for 2nd week.
3. Handout folders and relevant chn to take notes (registration/secretaries/liason officers etc).
4. Liaison officers booked a meeting with Mrs Cappleman, Mrs Blamires, Mr Vipond and possibly Mrs Woodward-Hay in order to relay information about proposed Guide Dog day (fundraising ideas, fee etc).
5. Chn wanted to begin making changes to school dinners for the Summer term. Passed onto relevant staff in the office (Mrs Lewis).
6. Eco-Committee – some chn who are in both SC and EC discussed propsed changes to help our school be more Eco-friendly. Recycle bins – passed. Turning plug sockets off when not used (laptops) – passed. Turning down classroom heating as much as possible when weather is fair – passed. EC and SC to work together to check these things are happening in school on a weekly basis. VH to feedback to HS (Head of Eco-Committee).
7. Innovation officers started to design and create Guide Dog posters and leaflets. Other chn were eager to get involved.
12.2.16
1. Register – registration officers
2. Observation officers fed back on current events on playground in hall at lunchtimes. No massive issues to deal with however the issue of Mini-Mentors did arise. Coby mentioned that some MM are noticing that some of the older child are not playing the games by the rules and being rude to them at lunchtimes. Issue passed onto SLT/Miss Rowntree by VH.
3. Confirmation of roles within School Council – everyone happy.
4. Kia/Megan (Y6) are suspended for 2 weeks due to poor behaviour in class.
5. Continuing discussion about 'Guide Dog' fund raising day – discussed how to raise the £300 – making posters in school, doggie baking day, casual clothes day (dress up as doggies for the day)?
6. Guide Dog display placement in the school discussed. Chn decided that best place was on the wall outside Miss Tindall's room as in prime position for visitors/chn entering hall for assembly.
7. 50p fee for casual clothes day confirmed.
8. Ended with folder hand-outs.
29.1.16
First NEW school council meeting
1. Introductions of each member; name, class, year group.
2. VH explained the different roles within school council and role were requested/given out.
3. Decided to create new roles – 'Observation Officers' to monitor mini-mentors and chn around the school at break times.
4. New roles are as follows:
 Chairperson – Kai Y6 (voted in by peers of school council)
 Vice-chair – Hermione Y5 (second vote for chairperson)
 Personal Assistant to Lead Teacher – Nicol Y6
 Secretaries – Melissa, Miya Y4
 Administration Distributors – Corey, Megan Y3
 Registration officers – Hermione Y5, Ethan Y4
 Liaison officer – Tazkia Y5
 Advertising officers – Lucan Y6, Luize Y5
 Observation officers – Coby Y5, Syke Y3
 Innovations officers – Mitchell, Jessica Y3/4
5. Discussions of new roles and responsibilities including consequence for violent detentions (2 weeks ban), normal detention (1 week ban), poor attitude in class to others (1 week ban) etc.
6. Discussed official events within the school year that the council will be involved in: Sports Relief, Summer Fayre, Christmas activities, talent show.
7. As requested by HS, we discussed chance of sponsoring 3 Guide Dog puppies at a cost of £300. Brainstormed possible fund-raising activities – wear yellow/blue day?
8. As requested by DT, began to think about Sports Relief and raising money to send to charity.
9. Old School Council display to come down and new one to go up – VH to take pictures for new board next week.
24.04.13
suggestions for how to spend the dodgeball tournament
Thank you for all your suggestions . Ideas which came from several classes included football nets, golden time games and playground equipment we shall consider all of these things and get back to you when a decision has been reached.
other ideas about the dodgeball final
We would like to ask you if you think these things are a good idea for the final on the play ground.
a) Charging parents 50p to come and watch
b) Having a juice and biscuits stall for spectators. 50p (free for competitors)
c) Having ball boys/girls to help keep the ball in the court
Dinners
We would like to know how you feel about the new dinner menu. Also , we want to hear about your views on any other issues to do with dinner times.
Thank you
James Riley – Secretary – School Council
27.02.13
1 Alfie and Katie were absent, Courtney has left Friarage. We will just have Max representing Mr Thomas' class for now and re-elect a new rep at a later date.
2 Playground Thank you to all classes for your feedback about the playground. All classes felt that the mini mentors are doing a good job and they like the choice of equipment.
Mrs Copeland's Class gave many suggestions for games
running races
more ball games
jumping games – like sack races
toy bikes
dodgeball
stuck in the mud
piggy in the middle
reading in the quiet area.
Some classes complained about the mini mentors getting 'carried away' with blowing the whistle in the 'scoop ball' area. Miss Turney has taken the whistle away.
Miss Turney is going to meet with the mini mentors and lunchtime staff to discuss new games and review the mini mentor's roles.
3 . Zambia More letters have gone out to local businesses asking for prizes to raffle. So far we have had back prizes from Nisa, Morrisons and Boyes. We are hoping for a couple more then we will hold a raffle before Easter. Abigail and Aiden have written a thank you letter to Nisa.
4. Dodgeball The juniors will be taking part in a sponsored dodgeball event in May. Before the sponsored event all classes will be learning how to play dodgeball with Miss Worley. More details about the actual event will be announced by Miss Turney later.
9.1.13
1. We received a letter back from Mrs Blamires about school dinners. The letter said the following points:
a) If boys and girls ate more vegetables and the bread they would have plenty to eat. The children who say the portions are too small are the ones who refuse the vegetables and the bread.
b) There will be a display showing a cooked dinner and a pudding so children know how much food is in a portion.
c) The adults in the dining room have been asked to keep the chairs clean . The little ones do make a mess, but food on chairs and tables will be swept on to the floor, so this should improve. It is not nice to sit on a dirty chair!
d) The potatoes are not mouldy. Sometimes, eyes in potatoes are mistaken for black bits.
e) There will be no juice as water is much healthier.
f) There will be no butter on bread as this is not healthy.
We have written letters to local businesses asking for raffle prizes. This is to raise money for Zambia. These letters are now in envelopes and ready to post. Miss Turney will do this at the weekend. We will let you know how this goes.
Miss Turney has asked us to speak to our classes about how the new lunchtime systems are working in the main playground.
Do you like the new activities on offer?
What other activities would you like?
Do you think the mini mentors are doing a good job?
What other changes would you like to see on the playground?
The next meeting will be on Wednesday 23rd January 2013
7.11.12
Thank you for the feedback on suggestion boxes in classrooms. The majority of children said that they would like to have a suggestion box in their classroom to put in messages for school council reps to take to the meetings.
Thank you for the vote on whether to have a sponsored skip or a sponsored dodgeball event. The majority of classes voted for sponsored dodgeball. Miss Turney will contact the British Heart Foundation for further information on this.
James and Aiden are going to write a letter, outlining pupil's concerns about school dinners. They will then have a meeting with Mrs Blamires, who will take their concerns to the dinner staff.
Katie, Amy, Alfie and Courtney are going to write to local businesses to ask them to donate prizes for a raffle.
Any Other Business – a number of school council reps raised various issues concerning the playground – equipment, games, mini mentors. We have agreed that we will come back to this after we have completed the current projects.